March 2017
PIFON activities highlighted at the 4th Global Steering Committee of the Intra-ACP Agriculture Policy Programme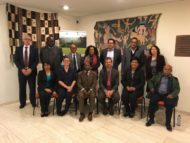 Representatives from the Pacific, Caribbean, CTA, ACP Secretariat and EU DEVCO
attending the 
 4th Intra-ACP Agriculture Policy Programme Global Steering Committee in Brussels  
Some of PIFON's work and it's impacts at the farmer-level within the region was highlighted at the fourth Global Steering Committee (GSC) meeting of the Intra-ACP Agriculture Policy Programme (APP), held in Brussels on 25-26 January 2017. PIFON in collaboration with its national farmer organization members implemented a total of 30 activities under the SPC-PAPP partnership between 2014 and 2016.  Several of these activities were highlighted at the recent- Intra-ACP APP GSC meeting including – the Pacific Breadfruit Roundtable, Regional Soil Learning Exchange, the Napil Rural Training Centre (Vanuatu), and the recently launched 
PNG Women in Agriculture
website were the highlights of the Pacific component of the programme. A report on the impacts from the PIFON-SPC partnership will be made available on the PIFON website soon.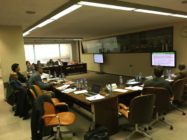 The
Intra-ACP APP Steering Committee Meeting was held at the ACP Secretariat offices in Brussels
The Pacific component will continue until June 2018 although there are no additional funds available for direct support to Pacific farmer organisations.  According to the SPC-PAPP team there is a possibility for ongoing inter-regional collaboration, including – coconuts, breadfruit, climate change resilient varieties and germplasm, planting material commercialization, access to finance, and use of the Agriculture Public Expenditure Review (AgPER) tool. Both the Caribbean and Pacific regions strongly suggest that farmer organisations should be involved right from the design phase when planning projects/programs of this type.  Also recognized is the continuity of support needed by many MSMEs, including some farmer organisations, to ensure sustainability of intervention impacts post the life of the program.

February 2017
PIFON releases report from the Pacific Breadfruit Roundtable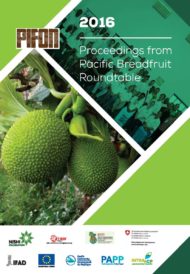 Proceedings from Pacific Breadfruit Roundtable now available
PIFON is proud to share the report on the proceedings of the Pacific Breadfruit Roundtable that was held in Nuku'alofa on the friendly islands of Tonga from September 15th - 16th, 2016. There were many recommendations gleaned from the event which was the first of its kind for the region, a few of which are as follows and are highlighted in the proceedings report: For Farmer Organisations - Consider the significance of breadfruit in the local context for addressing the challenges of climate change and food security.  The wide variety of applications of breadfruit in cropping systems make it a tree that should be considered by all farmer organisations and they should make a concerted effort to raise awareness about breadfruit and its possible applications. For Governments and Aid agencies - Consider the evidence presented through the roundtable report and other sources related to the importance of breadfruit for the Pacific region in terms of addressing the challenges of climate change, food security, import substitution, livelihood and nutritional platforms.  Governments are to use this evidence to inform national plans and strategies related to the agricultural sector so that breadfruit is given the extension, research and development attention it requires whilst the Aid agencies are to inform their development priorities related to the agricultural sector so that breadfruit is given the research and development attention it requires.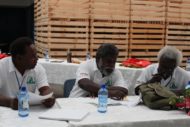 The Solomons delegation at the Pacific Breadfruit Roundtable
The two-day consultative roundtable event was co-organized by the Pacific Island Farmers Organisation Network in partnership with Nishi Foundation, GroFed (Growers Federation of Tonga) and MORDI (Mainstreaming of Rural Development Innovation Tonga Trust) and co-funded by the EU funded SPC PAPP (Pacific Agricultural Partnership Program) and IFAD/SDC funded MTCP II project. A copy of this document can be downloaded
here

PIFON-COAST Learning Exchange takes place
Md. Mujibul Munir learns about papaya planting at a papaya farm at Sabeto, Nadi, Fiji Islands.
Program Manager of the MTCP 2 Project in Bangladesh and Assistant Director for the Food Security, Education and  Development Communication of
Coastal Association for Social Transformation Trust (COAST) Trust
, Muhammad Mujibul Munir left Fiji's shores with valuable lessons after a 6 day Learning Exchange with PIFON this past week.  COAST is the National Implementing Agency for the MTCP II project in Bangladesh. Bangladesh and Pacific are recipients of AFA Awards at the Regional Steering Committee meeting that was held in Lao's in April 2016, so it was opportune that these two met on this Learning Exchange in Fiji. Muhammed visited PIFON to observe development activities for farmers' groups, especially the farmers' cooperatives in Fiji.  Part of his visit from 28 January 2016, included field trips to PIFON member FOs, Nature's Way Cooperative, the South Sea Orchids Ltd and Bula Agro Enterprises to observe its daily operations and farm visits. According to Mr. Munir, agriculture contributes about 16% of the total GDP of Bangladesh. It once contributed about 30% during the 80's. About 45% of the total labour force in Bangladesh are engaged in agriculture, yet farmers continue to face many problems. Muhammed states the following as his takeaway lessons from the exchange to share with COAST:
Agriculture should be business oriented. A business that can benefit the farmers, as well as the country
Alternative crops should be sought without too much dependence on the normal and usual crops, if it fails to ensure profit to the farmers. There should be continuous action research on alternative farming, alternative crops, alternative agriculture.
Value Chain training is a must for all the actors in a chain in order to teach the stakeholders what each actor in the value chain contributes and their relative share. This would address the misinformation that many of farmers have of middlemen and retailers.
Farmers should not always depend on the government services, rather they should help each other using methods such as that promoted by PIFON i.e. farmer to farmer learning exchanges.
Member-based farmers' organizations should be technical and business oriented for sustainability.
Mr. Munir acknowledges the Asian Farmers Association for Sustainable Rural Development (AFA) for facilitating the learning visit with special thanks to PIFON for hosting. He believes that learning exchanges between FOs as such will foster better cooperation and collaboration that will be of great benefit to farmers. Dhanyavad, safe travels and best of luck for the year Mr. Munir and COAST.