January 2017
Outcomes Report on Farmer Organisation consultation on Family Farming now available
The Pacific Island Farmers Organisation Network (PIFON) in partnership with the World Rural Forum organized the Farmer Organisation consultation on Family Farming that was held in Pacific Harbour, Fiji on 25
th
November 2016.  The outcomes of this consultation meeting is now available via a report
here
The
World Rural Forum (WRF)
is a plural network that works in favour of family farming and sustainable rural development, composed of farmers' federations, rural organizations and agriculture research centres from five continents. The aim of the consultation was to provide a regional platform for Pacific farmer organisation representatives to share, improve their knowledge, and understand the concept of family farming and its relativity at a regional level.  The consultation also aimed to identify priority policy issues affecting smallholder farmers in the region and means for addressing these issues with farmer organizations as a driving force. Family farming in the Pacific is known as subsistence farming, traditional farming, organic farming, indigenous farming or smallholder farming. The meeting was funded by the World Rural Forum.

PNG WiA launches its website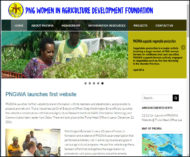 The Papua New Guinea Women in Agriculture Development Foundation (PNG WiA) with support from the EU funded Pacific Community (SPC) Pacific Agriculture Policy Project (PAPP) has launched a new website (
www.pngwia.org
)
through its partnership funding support to PIFON (Pacific Islands Farmers Organisation Network) President Maria Linibi said it was a milestone achievement for PNG women in agriculture after 10 years as a non-government organisation.  The national body has over 10,000 women registered as members making it the largest farming network for women in the South Pacific. PNG WIA is a member of the regional umbrella network for Pacific National Farming Organisations (NFOs) –
the "Pacific Island Farmers Organisation Network"
(PIFON) -- which provides valuable support to NFOs through capacity building, farmer exchanges and extension services. PIFON currently represents over 73,000 farmers from the region through 236 FOs in over 7 countries. The website has been customized, integrated and linked to relevant communication platforms and social networking spaces for greater online presence and interaction in an effort to promote its work plans, aspirations and achievements etc. with the 22 provinces that it services.  This should raise the profile of the FO and of women in agriculture in PNG generally. Mrs Linibi thanked Trukai Industries Ltd and the National Agricultural Research Institute, (NARI) who launched the website, and PIFON for its funding from its EU funded SPC PAPP Program for supporting PNG WiA.

10 THINGS TO KNOW ABOUT HOW TO INFLUENCE POLICY WITH RESEARCH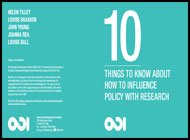 PIFON is pleased to be partnering with so many strong farmer organisations around the region to address some of the key policy constraints affecting our smallholder farmer members.  At our recent farmer organisation consultation on family farming it was highlighted that there remains a significant capacity gap within our network in relation to successfully influencing policy. On this note, we would like to share this short publication produced by the
Overseas Development Institute (ODI)
entitled "10 THINGS TO KNOW ABOUT HOW TO INFLUENCE POLICY WITH RESEARCH"
here
.  We hope to be able to share more resources on this subject in the coming months as we consolidate our policy work for farmer organisations in the region.

December 2016

Final 2016 PIFON Newsletter now available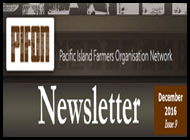 We are proud to present to you our final quarterly newsletter for 2016 covering the following highlights and others:
PIFON signs Declaration of Commitment with IFAD
PIFON hosts the 2016 IFAD IP workshop
Partners take stock at PIFON-SPC Impact Workshop
PIFON concludes MTCP II Sub-Regional Committee Meeting
Farmer Organisation Consultation on Family Farming
You can download it
here
On behalf of our members and partners, we would like to thank you all for a very successful year. We wish you all a blessed holiday.