November 2016

Report for the Open Pollinated Seeds Learning Exchange now available
The Pacific Island Farmers Organisation Network (PIFON) in partnership with Terra Circle Australia co-organized a Pacific Open Pollinated Seed Learning Exchange that was held in Brisbane on October 25 – 29, 2016.  This event targeted PIFON Farmer Organization members who work in the area of open pollinated seed production. A total of 11 farmer organisation representatives participated in this event from 6 countries (Fiji, Samoa, Tonga, Solomon Islands, PNG and Timor Leste).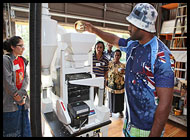 A participant tries out the mechanical seed processor at Eden Seeds
The Learning Exchange included technical presentations, field visits and hands on training.  Specific topics for the Learning Exchange included: variety selection, growing, processing, packaging and storage of Open Pollinated seed.  Sites visited include: Green Harvest Seeds, Edens Seeds, UQ Gatton and QDAFF. The Learning Exchange also included visits to suppliers of seed processing and packaging materials.  A report from the Learning Exchange is now available on the PIFON website via
http://www.pacificfarmers.com/publications-2/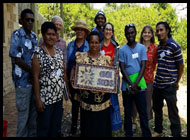 Participants of the learning exchange at Eden Seeds
The Learning Exchange is part of the PIFON's Pacific Breadfruit and Seeds Program (PBSP) and was funded under the IFAD/SDC Medium Term Cooperation Program for Farmer Organisations in Asia and Pacific Regions – Phase II (MTCP II) project.

September 2016

Tonga hosts Pacific Breadfruit Roundtable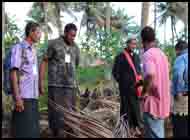 Farmer participants discuss breadfruit orchard planting techniques
The Pacific Island Farmers Organisation Network in partnership with Nishi Foundation, GroFed (Growers Federation of Tonga) and MORDI (Mainstreaming of Rural Development Innovation Tonga Trust) co-organized a Pacific Breadfruit Roundtable.  This two-day consultative roundtable was held in Nuku'alofa, on the friendly islands of Tonga from September 15th - 16th, 2016. The event was attended by 50 participants from seven Pacific Island countries including farmers, farmer organisation representatives, research organisations, government partners and aid agencies. This event, a first of its kind for the region, was co-funded by the EU funded SPC PAPP (Pacific Agricultural Partnership Program) and IFAD/SDC funded MTCP II project.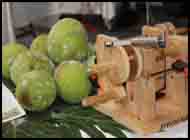 Simple breadfruit processing equipment for peeling and slicing
The objective of this roundtable was to bring together PIFON members and other partners who are actively involved in breadfruit research and development in the Pacific to share experiences, get updated and work to synergize regional breadfruit activities.  Discussions on the context for breadfruit development in the region as well as PIFON's Pacific Breadfruit and Seed Supply Programme (PBSP) were the focus subjects.  The roundtable also included four technical sessions including: Breadfruit Varieties and Propagation, Breadfruit Production Systems, Fresh Exports of Breadfruit and Breadfruit Processing. A key outcome from the roundtable meeting were detailed national work plans for each of the seven countries represented, along with a series of inter-regional technical partnerships being established.  PIFON is now seeking additional funding for its PBSP to help support the national activities identified.  Proceedings from this roundtable will be released by PIFON in due course. Mālō 'aupito to our wonderful Tongan hosts for organizing such a productive and memorable event!

Vanuatu festival promotes good health via traditional ways of preparing and preserving food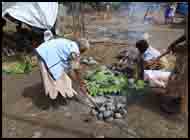 Vanuatu women cooking in their traditional manner
The Tupunis Slow Food Festival concluded on Tanna island, Vanuatu a few days ago.  The 5 day event brought together people from Vanuatu, PNG, Bougainville, New Caledonia (Kanaky); the Solomon Islands and Fiji to celebrate traditional ways of preparing and preserving food and also to celebrate national identity.  It was the first festival of its kind in Melanesia.  The festival was co-organised by local organisations (including Vanuatu Slow Food Network, 
Vanuatu Land Defence Desk
, 
Vanuatu Cultural Centre
, 
Tafea Cultural Centre
) and supported by
The Christensen Fund
 as well as the Vanuatu Government.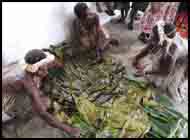 Vanuatu traditional method of preserving food
Two representatives from PIFON farmer organization member, Kastom Gaden Association, attended the event. The main take home message is to promote good health by returning to traditional ways of life and encouraging consumption of local food thus reducing the statistics of non-communicable diseases in Vanuatu.

PNG WiADF hosts training on: soil health, plant health & human nutrition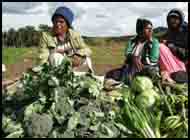 PNG women vegetable farmers with their harvest
As reported by PNG WiADF's Publicity Officer, Kerryanne Meskere, a week long training on Soil Health, Plant Health & Human Nutrition took place on July 25th-29th, 2016 in Mutzing, Markham District, Morobe Province, Papua New Guinea.  The training funded by the Pacific Island Farmer Organization Network (PIFON), was hosted and facilitated by PNG Women in Agriculture (PNGWIA) with support from the National Agriculture Research Institute (NARI). 'Take care of the soil and it will take care of the plants and human. Abuse it, and when the soil dies, it will take humanity with it', was the key message received. Trainer, Peter Linibi, who is knowledgeable in this area, challenged almost 20 interested individuals emphasizing the importance of balancing soil before planting crops, being conscious of plant health and taking care of one's digestive system and diet.  Peter represented PNG WiADF to the PIFON organized Pacific Soil Learning Exchange that was held in Taveuni, Fiji on September 2015.  The regional exchange was in support of the United Nations International Year of Soils 2015 theme "Healthy Soils for a Healthy Life" converging PIFON members including some soil experts from within the region on Taveuni to discuss soil issues.  Various methods and techniques for maintaining healthy soil in the region to ensure a healthy and productive food system and improve rural livelihoods were the take home messages. Participants later expressed their appreciation of the information they gained and that they now have a change in their perception towards soil health, plant health and human nutrition.