September 2016

Tonga hosts Pacific Breadfruit Roundtable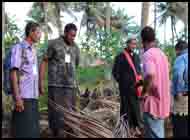 Farmer participants discuss breadfruit orchard planting techniques
The Pacific Island Farmers Organisation Network in partnership with Nishi Foundation, GroFed (Growers Federation of Tonga) and MORDI (Mainstreaming of Rural Development Innovation Tonga Trust) co-organized a Pacific Breadfruit Roundtable.  This two-day consultative roundtable was held in Nuku'alofa, on the friendly islands of Tonga from September 15th - 16th, 2016. The event was attended by 50 participants from seven Pacific Island countries including farmers, farmer organisation representatives, research organisations, government partners and aid agencies. This event, a first of its kind for the region, was co-funded by the EU funded SPC PAPP (Pacific Agricultural Partnership Program) and IFAD/SDC funded MTCP II project.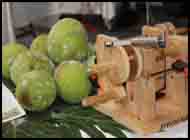 Simple breadfruit processing equipment for peeling and slicing
The objective of this roundtable was to bring together PIFON members and other partners who are actively involved in breadfruit research and development in the Pacific to share experiences, get updated and work to synergize regional breadfruit activities.  Discussions on the context for breadfruit development in the region as well as PIFON's Pacific Breadfruit and Seed Supply Programme (PBSP) were the focus subjects.  The roundtable also included four technical sessions including: Breadfruit Varieties and Propagation, Breadfruit Production Systems, Fresh Exports of Breadfruit and Breadfruit Processing. A key outcome from the roundtable meeting were detailed national work plans for each of the seven countries represented, along with a series of inter-regional technical partnerships being established.  PIFON is now seeking additional funding for its PBSP to help support the national activities identified.  Proceedings from this roundtable will be released by PIFON in due course. Mālō 'aupito to our wonderful Tongan hosts for organizing such a productive and memorable event!

Vanuatu festival promotes good health via traditional ways of preparing and preserving food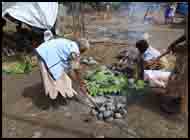 Vanuatu women cooking in their traditional manner
The Tupunis Slow Food Festival concluded on Tanna island, Vanuatu a few days ago.  The 5 day event brought together people from Vanuatu, PNG, Bougainville, New Caledonia (Kanaky); the Solomon Islands and Fiji to celebrate traditional ways of preparing and preserving food and also to celebrate national identity.  It was the first festival of its kind in Melanesia.  The festival was co-organised by local organisations (including Vanuatu Slow Food Network, 
Vanuatu Land Defence Desk
, 
Vanuatu Cultural Centre
, 
Tafea Cultural Centre
) and supported by
The Christensen Fund
 as well as the Vanuatu Government.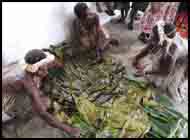 Vanuatu traditional method of preserving food
Two representatives from PIFON farmer organization member, Kastom Gaden Association, attended the event. The main take home message is to promote good health by returning to traditional ways of life and encouraging consumption of local food thus reducing the statistics of non-communicable diseases in Vanuatu.

PNG WiADF hosts training on: soil health, plant health & human nutrition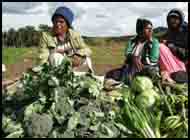 PNG women vegetable farmers with their harvest
As reported by PNG WiADF's Publicity Officer, Kerryanne Meskere, a week long training on Soil Health, Plant Health & Human Nutrition took place on July 25th-29th, 2016 in Mutzing, Markham District, Morobe Province, Papua New Guinea.  The training funded by the Pacific Island Farmer Organization Network (PIFON), was hosted and facilitated by PNG Women in Agriculture (PNGWIA) with support from the National Agriculture Research Institute (NARI). 'Take care of the soil and it will take care of the plants and human. Abuse it, and when the soil dies, it will take humanity with it', was the key message received. Trainer, Peter Linibi, who is knowledgeable in this area, challenged almost 20 interested individuals emphasizing the importance of balancing soil before planting crops, being conscious of plant health and taking care of one's digestive system and diet.  Peter represented PNG WiADF to the PIFON organized Pacific Soil Learning Exchange that was held in Taveuni, Fiji on September 2015.  The regional exchange was in support of the United Nations International Year of Soils 2015 theme "Healthy Soils for a Healthy Life" converging PIFON members including some soil experts from within the region on Taveuni to discuss soil issues.  Various methods and techniques for maintaining healthy soil in the region to ensure a healthy and productive food system and improve rural livelihoods were the take home messages. Participants later expressed their appreciation of the information they gained and that they now have a change in their perception towards soil health, plant health and human nutrition.

August 2016

Timor Leste farmer organisation signs LOA with PIFON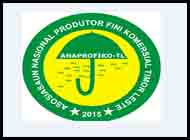 New inclusion to the PIFON network, ANAPROFIKO, the National Association of Commercial Seed Producers is now officially the National Implementing Agency (NIA) for Timor Leste under the International Fund for Agricultural Development and Swiss Development Corporation funded MTCP II program. ANAPROFIKO is the national umbrella association of seed producer groups in Timor Leste and has signed its Letter of Agreement (LOA) with PIFON on 23rd August, 2016.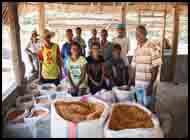 ANAPROFIKO farmer members with supply of seed
Timor Leste is the newest member to the Pacific Community. ANAPROFIKO promotes the development of commercial seed trade to achieve seed security and seed sovereignty leading to food and nutrition security. Activities under its MTCP II program work plan for 2016 include training on seed quality control and proposal writing.

Capacity Building: ESCAP-SPC Workshop on climate change resilient agriculture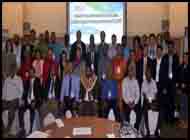 The ESCAP Workshop group of participants
The impact of severe flooding to damaged Fiji Red Papaya during the recent floods after TC Zena in Fiji and the remedial work done by PIFON farmer organisation member (Nature's Way Cooperative) to assist its member farmers from its papaya developing sunburn, was an action item that caught the attention of many of the regional attendees that were part of the recent United Nations Economic and Social Commission for Asia and Pacific Community (ESCAP-SPC) workshop when the PIFON secretariat presented the actions that can be taken to understand the practicality of 'resilience on climate change'. The workshop made up of regional representatives and specialists in various fields of agriculture, climate change and meteorology met for 3 days at the Tanoa International Hotel to discuss/investigate/analyse and map a regional way forward on resilient agriculture on climate change to be presented at the 2017 Pacific Heads of Agriculture Meeting in Vanuatu. The presence of farmer organisations (FOs) at this important forum represented the significant steps being taken that FOs are being recognized and be an integral part to such significant forums where farmer's voices can be heard. The PIFON Secretariat acknowledged the invitation from ESCAP-SPC and the International Fund for Agricultural Development (IFAD) to this regional workshop.

Strengthening Tongan breadfruit exports
Tongans at a breadfruit orchard in Lautoka
Fiji and Tonga are both exporters of fresh breadfruit. Through PIFONs Pacific Breadfruit and Seed programme, a learning exchange was facilitated between these two countries to share experiences and promote best practices. Nine representatives from Tongan farmer organisations comprising of 2 women and 7 men, participated in the Breadfruit Learning Exchange in Fiji from 03rd – 05th August, 2016. This exchange was funded by the MTCP II programme and facilitated by PIFON.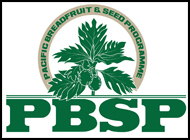 Farmer organisations represented were Nishi Trading, Growers Federation of Tonga and Mainstreaming of Rural Development Inc (MORDI). The 3 day exchange involved breadfruit orchard visits, visits to Ministry of Agriculture Research Stations including a visit to a farming input supplier organisation, Marco Polo and also the Pacific Community's Centre of Pacific Crops and Trees (SPC CePaCT) in Suva.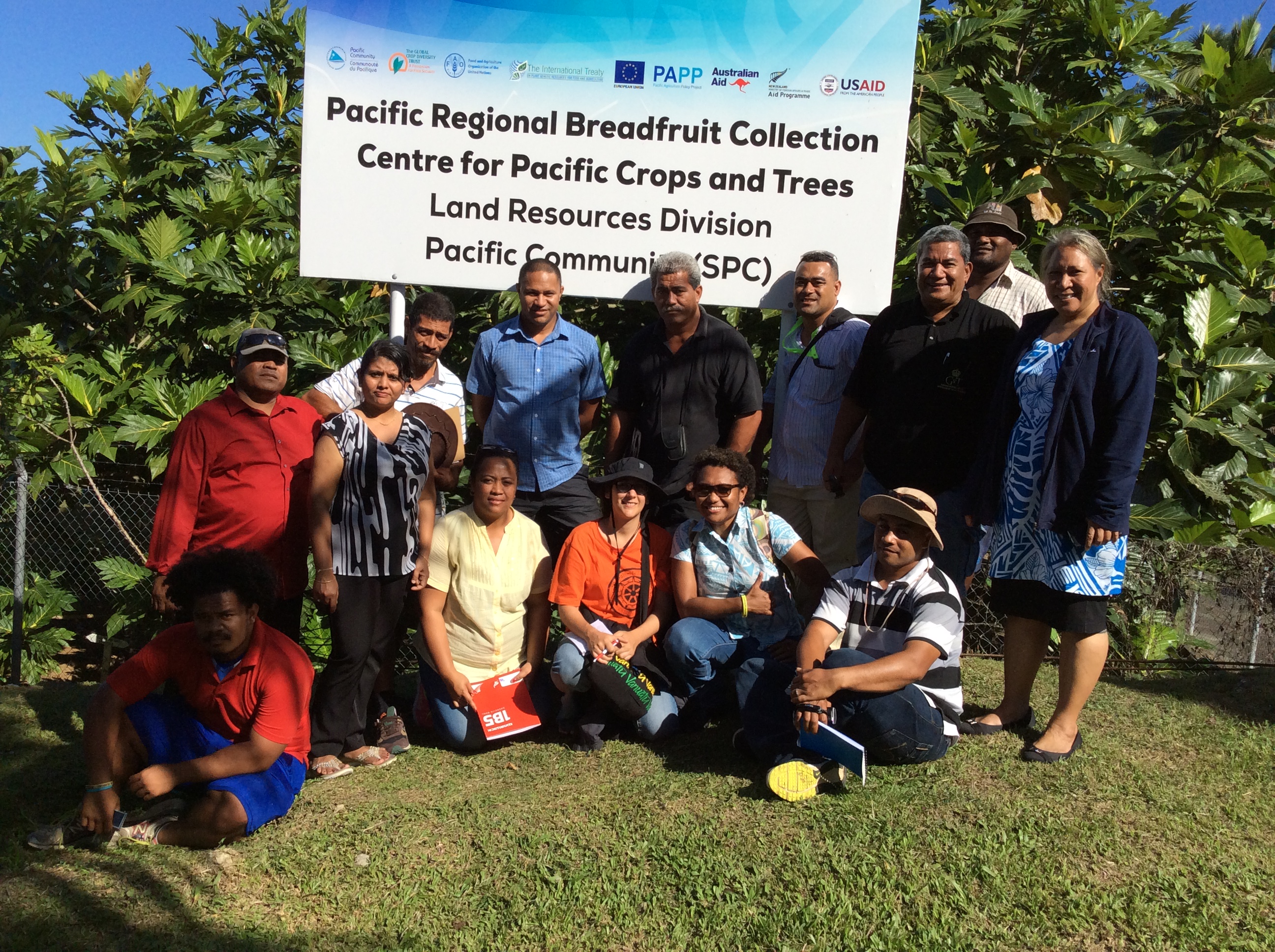 Group photo at the Pacific Community's Centre for Pacific Crops and Trees (SPC CePaCT) in Narere
Topics covered included: the fresh export breadfruit value chain, expected returns from breadfruit production, a visit to a large scale breadfruit production site showcasing trials of the three different propagation types – tissue culture, root sucker and marcotting trials, bait spraying demo, breadfruit characterization, hands-on training on marcotting, and briefing on tissue culture breadfruit systems by the SPC CePaCT staff. To sum up the exchange, a climate change adaptation presentation focusing on Breadfruit as the key crop for the future food security of the Pacific Islands was conducted by Koko Siga Pacific (Fiji) Ltd. Action plans completed by participants following the exchange stated planting breadfruit orchards and sharing of lessons learnt as the top priorities for when they return home.

FCLC implements a VC training for its Ginger farmers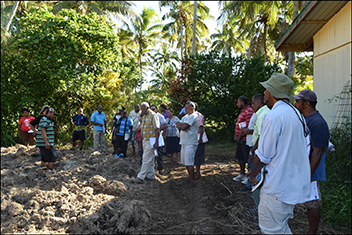 Soil conditions for ginger being explained
Pacific Island Farmers Organisation Network (PIFON) member, the Fiji Crop and Livestock Council (FCLC) implemented a Ginger Value Chain training supported by PIFON and with funding through the EU SPC-PAPP project. This training was held on 20th July – 21st July, 2016 at the Coral Coast Christian Camp in Pacific Harbour and included field visits to nearby farms and Kaiming Agro Processing facility. Ginger farmers from the Naitasiri, Rewa, Tailevu and Serua Provinces were invited to participate in this training from which they gained knowledge of the value chain mapping process and got a clear understanding of the stages and the actors that contributed to the ginger value chain in Fiji. Stakeholders also benefitted from the opportunity to interact directly with each other (farmers, buyers, exporters, MoA etc.) Ginger farmers have always raised issues that the ginger price at the farm gate is very low compared to the market price overseas. The value chain training session with stakeholders helped to highlight what each actor in the value chain contributes and their relative 'share'. This type of analysis and discussion is critical for addressing some of the misinformation regarding margins for various actors. Other important areas for discussion during the training focused on the link between environmental and economic sustainability so that farmer and exporters realise that sustainable agriculture practices are required to preserve the fertility and integrity of the land for the years to come. This also ensures that they can make money from farming this land. Providing specific technical training to strengthen the ginger association and its members is one of the pillar services that FCLC provides to its Commodity Associations. This joint FCLC-PIFON activity has provided a good framework for how this type of training could be extended to other associations.