February 2017
PIFON releases report from the Pacific Breadfruit Roundtable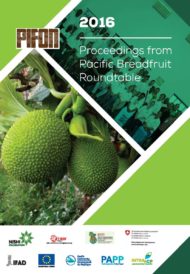 Proceedings from Pacific Breadfruit Roundtable now available
PIFON is proud to share the report on the proceedings of the Pacific Breadfruit Roundtable that was held in Nuku'alofa on the friendly islands of Tonga from September 15th - 16th, 2016. There were many recommendations gleaned from the event which was the first of its kind for the region, a few of which are as follows and are highlighted in the proceedings report: For Farmer Organisations - Consider the significance of breadfruit in the local context for addressing the challenges of climate change and food security.  The wide variety of applications of breadfruit in cropping systems make it a tree that should be considered by all farmer organisations and they should make a concerted effort to raise awareness about breadfruit and its possible applications. For Governments and Aid agencies - Consider the evidence presented through the roundtable report and other sources related to the importance of breadfruit for the Pacific region in terms of addressing the challenges of climate change, food security, import substitution, livelihood and nutritional platforms.  Governments are to use this evidence to inform national plans and strategies related to the agricultural sector so that breadfruit is given the extension, research and development attention it requires whilst the Aid agencies are to inform their development priorities related to the agricultural sector so that breadfruit is given the research and development attention it requires.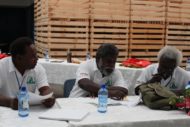 The Solomons delegation at the Pacific Breadfruit Roundtable
The two-day consultative roundtable event was co-organized by the Pacific Island Farmers Organisation Network in partnership with Nishi Foundation, GroFed (Growers Federation of Tonga) and MORDI (Mainstreaming of Rural Development Innovation Tonga Trust) and co-funded by the EU funded SPC PAPP (Pacific Agricultural Partnership Program) and IFAD/SDC funded MTCP II project. A copy of this document can be downloaded
here

PIFON-COAST Learning Exchange takes place
Md. Mujibul Munir learns about papaya planting at a papaya farm at Sabeto, Nadi, Fiji Islands.
Program Manager of the MTCP 2 Project in Bangladesh and Assistant Director for the Food Security, Education and  Development Communication of
Coastal Association for Social Transformation Trust (COAST) Trust
, Muhammad Mujibul Munir left Fiji's shores with valuable lessons after a 6 day Learning Exchange with PIFON this past week.  COAST is the National Implementing Agency for the MTCP II project in Bangladesh. Bangladesh and Pacific are recipients of AFA Awards at the Regional Steering Committee meeting that was held in Lao's in April 2016, so it was opportune that these two met on this Learning Exchange in Fiji. Muhammed visited PIFON to observe development activities for farmers' groups, especially the farmers' cooperatives in Fiji.  Part of his visit from 28 January 2016, included field trips to PIFON member FOs, Nature's Way Cooperative, the South Sea Orchids Ltd and Bula Agro Enterprises to observe its daily operations and farm visits. According to Mr. Munir, agriculture contributes about 16% of the total GDP of Bangladesh. It once contributed about 30% during the 80's. About 45% of the total labour force in Bangladesh are engaged in agriculture, yet farmers continue to face many problems. Muhammed states the following as his takeaway lessons from the exchange to share with COAST:
Agriculture should be business oriented. A business that can benefit the farmers, as well as the country
Alternative crops should be sought without too much dependence on the normal and usual crops, if it fails to ensure profit to the farmers. There should be continuous action research on alternative farming, alternative crops, alternative agriculture.
Value Chain training is a must for all the actors in a chain in order to teach the stakeholders what each actor in the value chain contributes and their relative share. This would address the misinformation that many of farmers have of middlemen and retailers.
Farmers should not always depend on the government services, rather they should help each other using methods such as that promoted by PIFON i.e. farmer to farmer learning exchanges.
Member-based farmers' organizations should be technical and business oriented for sustainability.
Mr. Munir acknowledges the Asian Farmers Association for Sustainable Rural Development (AFA) for facilitating the learning visit with special thanks to PIFON for hosting. He believes that learning exchanges between FOs as such will foster better cooperation and collaboration that will be of great benefit to farmers. Dhanyavad, safe travels and best of luck for the year Mr. Munir and COAST.

January 2017
Outcomes Report on Farmer Organisation consultation on Family Farming now available
The Pacific Island Farmers Organisation Network (PIFON) in partnership with the World Rural Forum organized the Farmer Organisation consultation on Family Farming that was held in Pacific Harbour, Fiji on 25
th
November 2016.  The outcomes of this consultation meeting is now available via a report
here
The
World Rural Forum (WRF)
is a plural network that works in favour of family farming and sustainable rural development, composed of farmers' federations, rural organizations and agriculture research centres from five continents. The aim of the consultation was to provide a regional platform for Pacific farmer organisation representatives to share, improve their knowledge, and understand the concept of family farming and its relativity at a regional level.  The consultation also aimed to identify priority policy issues affecting smallholder farmers in the region and means for addressing these issues with farmer organizations as a driving force. Family farming in the Pacific is known as subsistence farming, traditional farming, organic farming, indigenous farming or smallholder farming. The meeting was funded by the World Rural Forum.

PNG WiA launches its website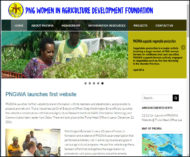 The Papua New Guinea Women in Agriculture Development Foundation (PNG WiA) with support from the EU funded Pacific Community (SPC) Pacific Agriculture Policy Project (PAPP) has launched a new website (
www.pngwia.org
)
through its partnership funding support to PIFON (Pacific Islands Farmers Organisation Network) President Maria Linibi said it was a milestone achievement for PNG women in agriculture after 10 years as a non-government organisation.  The national body has over 10,000 women registered as members making it the largest farming network for women in the South Pacific. PNG WIA is a member of the regional umbrella network for Pacific National Farming Organisations (NFOs) –
the "Pacific Island Farmers Organisation Network"
(PIFON) -- which provides valuable support to NFOs through capacity building, farmer exchanges and extension services. PIFON currently represents over 73,000 farmers from the region through 236 FOs in over 7 countries. The website has been customized, integrated and linked to relevant communication platforms and social networking spaces for greater online presence and interaction in an effort to promote its work plans, aspirations and achievements etc. with the 22 provinces that it services.  This should raise the profile of the FO and of women in agriculture in PNG generally. Mrs Linibi thanked Trukai Industries Ltd and the National Agricultural Research Institute, (NARI) who launched the website, and PIFON for its funding from its EU funded SPC PAPP Program for supporting PNG WiA.

10 THINGS TO KNOW ABOUT HOW TO INFLUENCE POLICY WITH RESEARCH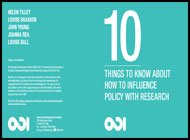 PIFON is pleased to be partnering with so many strong farmer organisations around the region to address some of the key policy constraints affecting our smallholder farmer members.  At our recent farmer organisation consultation on family farming it was highlighted that there remains a significant capacity gap within our network in relation to successfully influencing policy. On this note, we would like to share this short publication produced by the
Overseas Development Institute (ODI)
entitled "10 THINGS TO KNOW ABOUT HOW TO INFLUENCE POLICY WITH RESEARCH"
here
.  We hope to be able to share more resources on this subject in the coming months as we consolidate our policy work for farmer organisations in the region.