May 2017
PIFON partners with CTA in strengthening value chain analysis in the Pacific
PIFON has recently signed a contract with the ACP-EU Technical Centre for Agricultural and Rural Co-operation (CTA) to support the implementation of a project titled "Leveraging the Development of Local Food Crops and Fisheries Value Chains for Improved Nutrition and Sustainable Food Systems in the Pacific Islands". Under this project, PIFON will be carrying out the value chain (VC) analysis on the following nutrition-sensitive crops for domestic markets:
Green coconuts – Samoa
Pineapples – Vanuatu
Root crop chips - Tonga
Indigenous nuts – Solomon Islands
Fresh fruit juices - Fiji
PIFON is working with national consultants to carry out the VC analysis and then will work to pull together these national reports into the larger study. The overall theme of this study is on linking agriculture to schools and PIFON is excited about how rural farmers can capitalize on these market opportunities and make a positive contribution to the nutritional situation. CTA is embarking on this project with funding by the International Fund for Agricultural Development (IFAD).

PIFON signs contract to support Pacific Coconut Project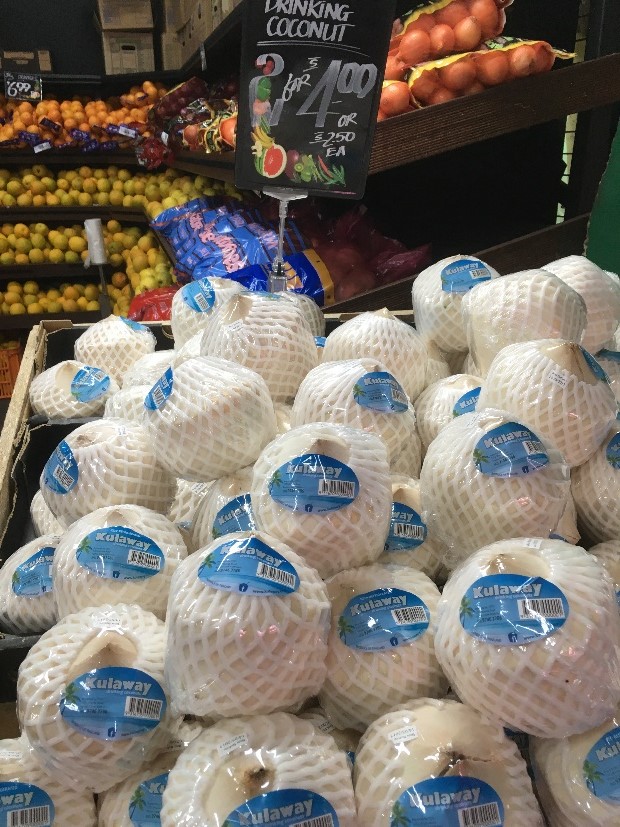 Drinking coconuts on sale in Melbourne, Australia. The last few decades have seen major shifts in the world demand for coconut products and CIDP aims to help better position Pacific Island nations to take advantage of these opportunities.
The coconut is undoubtedly the most important tree in the Pacific. Over the past few decades the economic significance of this important tree to the Pacific has been subject to major international shifts. With funding from the European Union, the Pacific community has recently launched a new project entitled "Coconut Industry Development for the Pacific Project" or CIDP which aims to better position Pacific Island nations to take advantage of these opportunities. PIFON is proud to announce that it has recently signed a contract to support the CIDP over the next 16 months. Through its network, PIFON will be providing a range of expertise to CIDP to carry out market studies and value chain analysis for a range of coconut products from the region. PIFON through its national farmer organisation members will help to provide a 'farmers perspective' to the development of this sector in the various countries.

April 2017
PIFON Value Chain Analysis Capacity Building Training for Ministry of Agriculture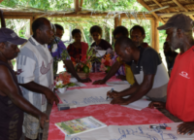 PIFON in partnership with its farmer organisation members has conducted numerous farmer-orientated value chain trainings in the region however this will now be extended to policy makers through a partnership with the EU funded FAO FIRST Project.
Through the European Union and FAO co-funded FIRST Project, the Pacific Island Farmers Organisation Network (PIFON) will be conducting a value chain analysis capacity building training for up to 18 staff members from the Fiji Ministry of Agriculture (MOA). The three day training will be held at the Coral Coast Christian Camp in Deuba from 26 – 28 April with key experts working in the field of value chains led by Agricultural Economist, Dr. Andrew McGregor. The training will utilize a methodology set out in the CTA-KSP publication 'Agricultural Value Chain Guide for Pacific Islands'. The key objective of the training is to strengthen the capacity of Ministry of Agriculture staff to apply value chain analysis to guide the development of targeted sector and sub-sector policies, strategies and action plans. This training also contributes to the overall objective of the FAO FIRST initiative, which is to increase food and nutrition security and sustainability of agriculture production systems by strengthening the enabling environment in the form of policies; programs and legal frameworks; financial resource allocation and capabilities and; governance and stakeholder coordination. Although PIFON has always provided this Value Chain (VC) training to farmers and farmer organisations, this one will be a first for PIFON to extend its VC Analysis training to Ministry officials who are also considered critical actors in the Value Chain.

PIFON's 1st 2017 newsletter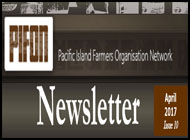 PIFON Newsletter Issue 10
We are excited to present our 1st quarterly newsletter for 2017 (Issue 10) covering the following highlights and others:
Release of the 2016 PIFON Annual Report
Induction of PIFON into the World Rural Forum
Tonga PIFON FO members taking the lead in Tonga Breadfruit Project to combat lifestyle diseases
PIFON partnering with CTA to strengthen value chain analysis & training in the Pacific
You may download a copy
here
.

PIFON's 2016 Annual Report now available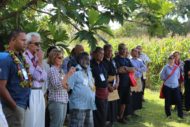 Pacific Breadfruit Roundtable participants @ the Nishi Trading breadfruit orchard in Tongatapu
PIFON recently released its Annual Report 2016 documenting its activities implemented in 7 of its member countries of Fiji, Tonga, Vanuatu, Solomon Islands, PNG, Samoa and newly joined Timor Leste, it also reports on the finances for 2016. The report covers the progress of all the activities associated with its two major projects – EU funded SPC PAPP and IFAD/SDC funded MTCP II and the World Rural Forum partnership for 2016. 2016 was a challenging and exciting one with many 'firsts' amongst its other achievements for the year.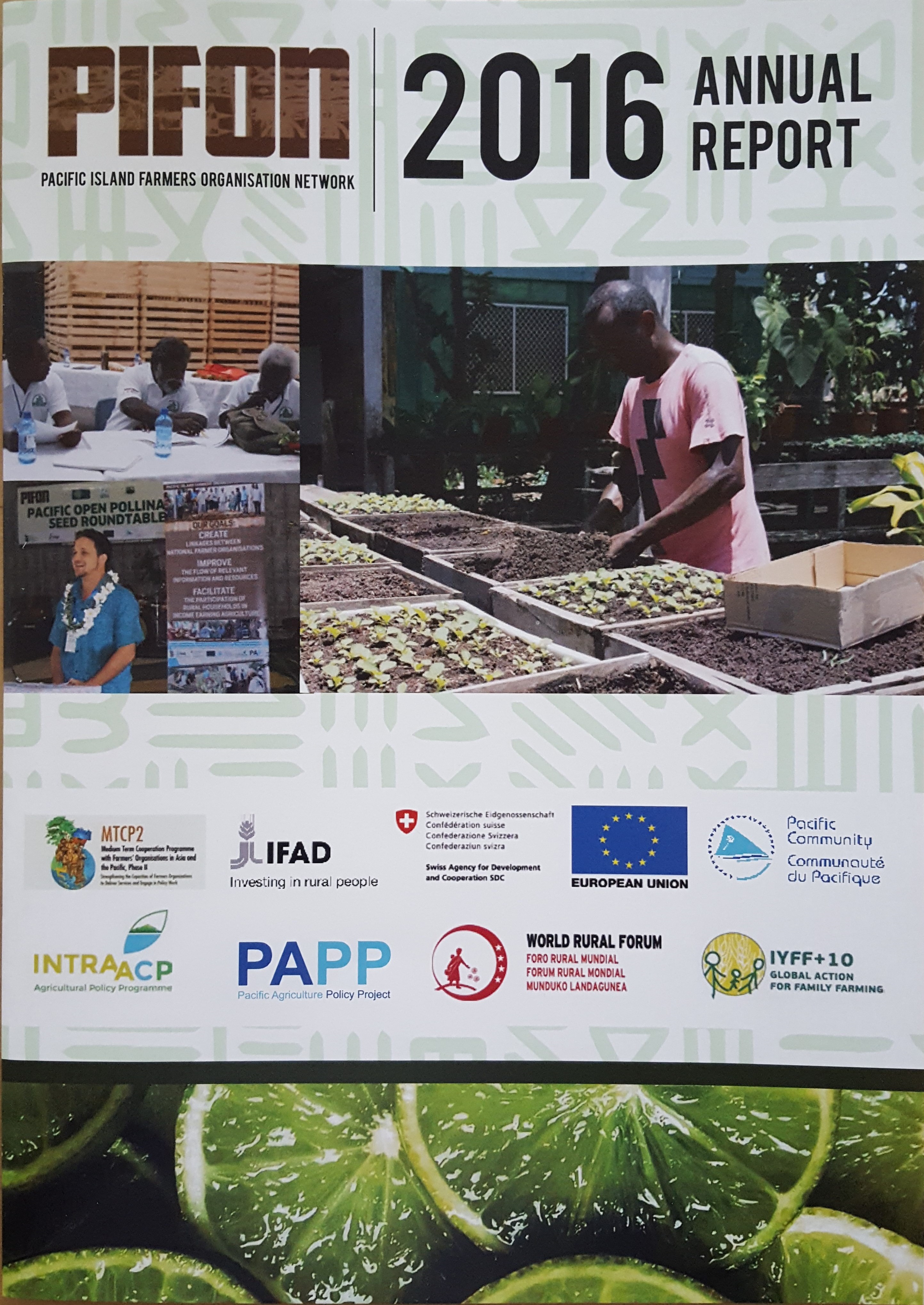 PIFON 2016 Annual Report now available
PIFON hosted its 1st and 2nd regional events outside of Fiji. The 1st was 'The Pacific Breadfruit Roundtable' held in Nuku'alofa Tonga, co-hosted with its Tonga Farmer organisations of GroFed, MORDI and Nishi Foundation The 2nd was 'The Pacific Open Pollinated Seed Roundtable' co-hosted in the Solomons with its farmer organisation member – Kastom Gaden Association (KGA)
The PIFON network membership increased to nine countries after Timor Leste (ANAPROFIKO) and New Caledonia (Chamber D'Agriculture) joined.
The PIFON Secretariat office moved into its own office at Legalega, Nadi, Fiji.
The Mid-Term review for the IFAD/SDC funded MTCP II program was completed with PIFON obtaining a point 4 score in its review, scoring the highest as a region under the program.
PIFON's Strategic Plan review conducted by Dr Lex Thompson which paves the way for PIFON's new Strategic Plan II : 2017 – 2020
PIFON's successful Farmer to Farmer exchanges between its farmer organisations for Pineapple between Fiji, Tonga and Samoa; Vanilla between Tonga, Fiji and Vanuatu, Breadfruit between Fiji and Tonga, Papaya between Samoa, Tonga and Fiji, Seeds between Solomon Islands, Brisbane and the PIFON network members.
The successful end of a two year partnership with the EU funded SPC PAPP which saw PIFON host 28 activities with its member farmer organisations under this project.
To download a copy of this report click
here
.