October 2016

PIFON releases its Strategic Review
PIFON is proud to share its recent Strategic Review. The PIFON Board and Management commissioned an independent review of PIFONs operations and delivery towards its Strategic Plan and objectives since its inception. This review involved consultation with all members, partners and travel to three countries, namely, Fiji, Solomon Islands and Tonga. The Strategic Review has already formed a number of significant improvements in the management and service delivery of PIFON. The review is also providing a foundation for the development of PIFON's new Strategic Plan 2017-2020 which will be presented at PIFON's November Annual General Meeting 2016. PIFON is committed to the highest level of transparency, good governance and efficiency for the benefit of its members and this type of review – an independent one provides invaluable insights enabling it to live up to this commitment. PIFON would like to acknowledge and thank all that contributed to the compilation of the ideas and suggestions in the review. A copy of this document can be downloaded
here

November 2016

Report for the Open Pollinated Seeds Learning Exchange now available
The Pacific Island Farmers Organisation Network (PIFON) in partnership with Terra Circle Australia co-organized a Pacific Open Pollinated Seed Learning Exchange that was held in Brisbane on October 25 – 29, 2016.  This event targeted PIFON Farmer Organization members who work in the area of open pollinated seed production. A total of 11 farmer organisation representatives participated in this event from 6 countries (Fiji, Samoa, Tonga, Solomon Islands, PNG and Timor Leste).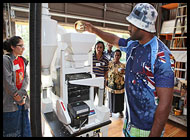 A participant tries out the mechanical seed processor at Eden Seeds
The Learning Exchange included technical presentations, field visits and hands on training.  Specific topics for the Learning Exchange included: variety selection, growing, processing, packaging and storage of Open Pollinated seed.  Sites visited include: Green Harvest Seeds, Edens Seeds, UQ Gatton and QDAFF. The Learning Exchange also included visits to suppliers of seed processing and packaging materials.  A report from the Learning Exchange is now available on the PIFON website via
http://www.pacificfarmers.com/publications-2/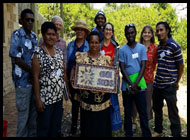 Participants of the learning exchange at Eden Seeds
The Learning Exchange is part of the PIFON's Pacific Breadfruit and Seeds Program (PBSP) and was funded under the IFAD/SDC Medium Term Cooperation Program for Farmer Organisations in Asia and Pacific Regions – Phase II (MTCP II) project.