August 2017
PIFON represented at the Pacific Islands Rural Advisory Services Network (PIRAS) Annual Forum
The SPC EU funded PAPP project in partnership with Pacific Islands Rural Advisory Services Network (PIRAS) through funding support from the UN International Fund for Agricultural Development (IFAD) held a forum bringing together representatives from PICTs to dialogue on the challenges and explore ways to collaboratively mobilise resources and share knowledge and experiences to build capacities of stakeholders. The underlying philosophy was to empower smallholder farmers in the Pacific by strengthening the capacity of agricultural extension and advisory services (EAS). The objectives of the forum were as follows:
To identify capacity building needs for extension services in the region
To showcase and document best practices in research and extension across the Pacific
To strengthen advocacy needs and policy gaps for research and extension services
To strengthen knowledge management processes to support research and services in countries
PIFON was represented at this forum via its members from PNG Women in Agriculture Development Foundation, Farm Support Association of Vanuatu, Tutu Rural Training Centre and Fiji Crops & Livestock Council of Fiji who showcased their Good Practices in: Youth Empowerment and Training in rural advisory services (RAS), and Empowering Farmers Role in RAS. The event was co-organized with the Global Forum for Rural Advisory Services (GFRAS) and the South East Agricultural Research Centre (SEARCA). Approximately 50 participants attended the event which was held over a span of three days from 29 – 31 August 2017 at the Novotel Hotel in Nadi, Fiji.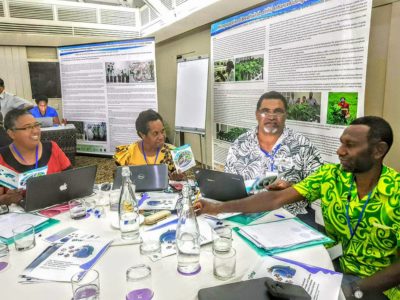 PIFON Video Release - Value Chain Training: The Impacts and Lessons Learned
PIFON is very excited to release a new video production capturing the lessons learned from farmer orientated value chain trainings in Fiji, Tonga and Vanuatu. Since 2014, PIFON has been working with its farmer organization members to pilot new approaches to value chain training for farmers and other stakeholders that lead to real impacts. This new video captures feedback from farmers, farmer organisations, traders and the public sector about how this type of training has impacted them and also what can be done to improve on the approach taken. This video was produced in collaboration with the ACP-EU Technical Centre for Agricultural and Rural Co-operation (CTA) and the Pacific Islands Private Sector Organization (PIPSO) under an International Fund for Agricultural Development (IFAD) funded project "Leveraging the Development of Local Food Crops and Fisheries Value Chains for Improved Nutrition and Sustainable Food Systems in the Pacific Islands". The full video is available on the web
here
.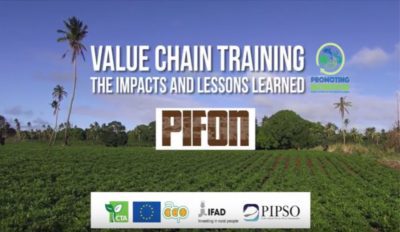 Fiji hosts Farmers Forum
The Pacific Island Farmers Organisation Network (PIFON) in partnership with the Fiji Crop and Livestock Council hosted a two-day Farmers Forum and Farmer to Farmer Learning Exchange in Pacific Harbour, Fiji from 01 – 02 August, 2017. The Forum brought about awareness on the importance of advocacy and policy engagement through the sharing of case studies and tools which were introduced to help farmer organisations be more effective in engaging with government. The farmer to farmer exchange promoted the sharing of technologies and lessons learnt through direct engagement between farmers. Approximately 50 participants attended the event comprising of:
Farmer organisation representatives across Fiji's agricultural sector
Representatives from Fiji Ministry of Agriculture
Representatives from relevant NGOs and development partners
An immediate outcome of the Fiji Farmers Forum was a Farmer's Communique that will be publicly distributed. The event was funded by the World Rural Forum (WRF) in collaboration with the International Fund for Agricultural Development (IFAD) funded Medium Term Cooperation Programme with Farmer Organizations (FOs) in Asia and the Pacific Phase II (MTCP II).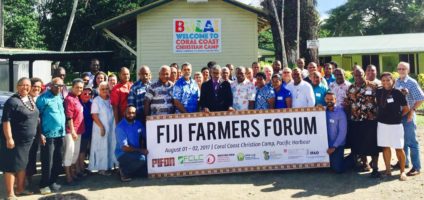 Fiji's first Farmers Forum

June 2017
PIFON 2017 Newsletter #2 now available
We are at the half year mark of 2017 and are delighted to present our 2nd quarterly newsletter (Issue 11) covering the following highlights and others:
PIFON to host Fiji Farmers Forum
PIFON supported farmer-farmer exchange bears fruit for Tonga export industry
PIFON partners with CTA in strengthening Value Chain analysis in the Pacific
PNG WiA promotes solar powered agro-processor machines
You may download a copy
here
.

Growers Federation of Tonga plays key role in policy awareness and advocacy
GroFed is playing a key role in creating awareness on the proposed 'Water Bill' in Tonga for its smallholder farmers. As the coordinator of the Agricultural Sector Growth Committee, GroFed has also coordinated with other actors in the agricultural industry to advocate Tongan legislators to reconsider the bill in its current form. If the bill is passed, growers who have invested in water supply in their own farm property will lose their rights to own and take water from their water source. This bill has been deferred by Parliament in 2016 for further public consultations. GroFed is also actively involved in pushing for investment in farm irrigation for smallholder farmers in Tonga. Currently around 80% of farmers in Tonga are reliant solely on rain water for irrigation and GroFed feels that there is much more to be done to improve access to irrigation which will improve the quality of produce and help farmers to mitigate against natural disasters such as drought. On this issue, GroFed is working as a key member of the taskforce for agricultural irrigation which has been recently established.