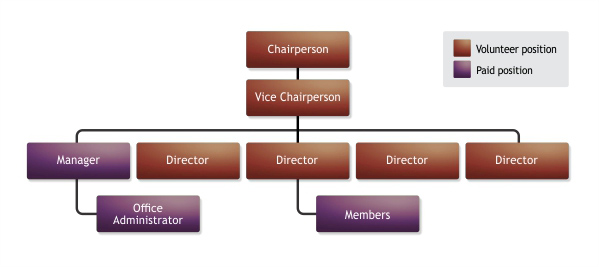 Role profiles under the proposed organisational structure include:
Board of Directors (Chairperson, Vice Chairperson, three FO Board  members & Manager)
The Board of Directors will provide guidance and supervision to the Secretariat in the running of PIFON.   The Chairperson, Vice-Chairperson and FO Board members will be elected for 2-year terms by all PIFON members.  The first election occurred at the PIFON Foundation Conference.  PIFON Board members can be re-elected for a further 2-year term.   The election would occur at a national PIFON Annual General Meeting Conference.
The Manager will be responsible for the day-to-day running of PIFON activities and the management of the Secretariat. The Manager will be responsible for communications to all of the members and timely reporting and acquittal of funds received by PIFON.  The paid Manager will be appointed for a 3-year term with the option of re-appointment for a further term.
The Program Manager is directly responsible for the operationalizing of PIFON's PBSP and reports to the Manager and Board. This is a senior role within the Secretariat and will at times act in the post of Manager as a full time position. The PM's duties also include the daily management of the Secretariat as follow through on Managers duties as allocated to the position, delivery of Board directives, Project sourcing including funding proposals, and the monitoring and evaluation of PIFON programs once implemented.
Office and Communications Manager
Responsible for membership database and membership profiles, data entry to website, managing social media pages, travel and other logistics, assisting members with PIFON supported ICT tools (bulk SMS, video making, map making), receiving and responding to member queries and preparing a quarterly newsletter and e-bulletins, assisting the Manager in compiling donor technical and financial reports, assisting in managing information for donor and annual audits, secretarial work including email/letter correspondence, answering and making phone calls etc.
Finance and Procurement Manager
Responsible for the preparation of weekly/fortnightly payment vouchers & cheques for project staff, preparation of payment vouchers & cheques for miscellaneous project expenses, preparation of payment vouchers & cheques for monthly company expenses, preparation & submission of staff monthly Provisional Tax payments to FIRCA and FNPF deductions, coordinate purchasing processes for goods and services, preparation of project budget conversions, bank errands (wire transfers, deposits and withdrawals), compilation of quarterly and annual financial acquittals, preparation of company annual returns, organizing flight travel, hotel accommodation, catering etc.
All participating FOs will constitute the members of the PIFON.  The FO members will be responsible for regular communication with PIFON on national activities and achievements that may be highlighted on the website and newsletter.  It will be the responsibility of the members to communicate their relevant needs and issues to PIFON and to provide representation at national and regional forums as required by PIFON.