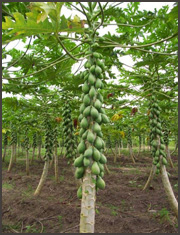 Background
Nature's Way Cooperative (Fiji) Ltd (NWC) was formed in 1995 to undertake mandatory quarantine treatment on behalf of Fiji's fruit export industry.
Over the last 15 years, NWC has grown from a small business handling just 30 tonnes of papaya to an agribusiness treating 1,300 tonnes of fruit (papaya, mango, eggplant and breadfruit) annually for export.
Core business
NWC' is the quarantine treatment of fruit fly host products. NWC is a service-cooperative that treats and packs fruit on behalf of its members and charges a fee per kg for this service. It is not involved in exporting, which is handled by individual exporters.
Membership
The cooperative has over 140 members, made up of growers and exporters, who are also shareholders in the company. The vast majority of NWC shareholders are small farmers who without the services provided by NWC would not have access to export markets.
Activities
Quarantine treatment for fruit fly host products
NWC provides the only quarantine treatment facility for fruit fly host products in Fiji. Currently, NWC handles four commodities: papaya, eggplant, breadfruit, and mango.
Research and extension
Provision of an effective field service closely supports the core business of providing quarantine treatment services. Research activities have been incorporated into several commodity projects such as the Fiji Papaya Project and the Pacific Breadfruit Project, both funded by the Australian Centre for International Agricultural Research (ACIAR) and based at the NWC complex.
Input supply
NWC has commenced a program of bulk purchase of field crates and papaya seed on behalf of its members. This small scale activity has proven highly successful – providing a valuable service to members and a small profit to the business.
Representation of members to national and regional forums
NWC has become the de facto body representing the horticultural export industry in discussions with government and with donor and technical-assistance organisations.