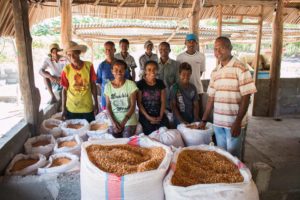 Background
ANAPROFIKO was formed in March 2015 with assistance from MAF-Seeds of Life.  It is registered at the Ministry of Justice on September 2015.
It is established with objectives to represent the interests of the commercial seed producers and to promote the development of commercial seed trade. It is being operated on a voluntary basis.  An independent Secretariat is set up in Dili to coordinate its activities in serving the interests of members.
ANAPROFIKO is an umbrella organisation of Commercial Seed Producers (CSP) which are registered with the Seed Department of the Ministry of Agriculture and Fisheries to produce, process and/or market quality seed in Timor-Leste.  CSPs include a number of farmer organisations or farmer groups.
ANAPROFIKO held its first general assembly on 19 March 2015 where representatives from 55 commercial seed producers from 12 municipalities attended.  The general assembly decided to elect one delegate for each municipality and the 12 delegates further elected a four members executive committee for ANAPROFIKO.  At present, the Executive Committee team comprises of the President, Vice President, Secretary and Treasurer .
Core business
ANAPROFIKO works closely with the Ministry of Agriculture and Fisheries (MAF) to achieve seed security and seed sovereignty leading to food and nutrition security.  It assists in MAF's effort to stop importation of seeds of maize and paddy and to realize self-reliance on commercial seeds of major food crops.
Membership
Membership is open to all commercial seed producers registered in MAF on payment of a one-time entry fee and an annual subscription based on turn-over.  There are 55 Commercial Seed Producers (1500 seed growers) in 12 municipalities of Timor-Leste.
Activities
In 2014-2015, ANAPROFIKO members (ie. commercial seed producers) have produced 354 tonnes of seeds of MAF released varieties which are ready for distribution for the 2015-16 cropping season:
Maize variety Sele: 135 tonnes
Maize variety Noi Mutin: 64 tonnes
Maize variety Nai: 6 tonnes
Paddy variety Nakroma: 130 tonnes
Peanut Variety Utamua: 19 tonnes
ANAPROFIKO members have actively contributed in the process of drafting 'Timor-Leste National Seed Policy'.  ANAPROFIKO has a permanent seat in the National Seed Council at the Ministry of Agriculture and Fisheries.  It is fully committed to implement the National Seed Policy.